The 2020 Genesis G70 Captivates All in Stamford
When you decide to step into our showroom at Genesis of Stamford, you're not only looking for a quality luxury vehicle, you're seeking out a lifestyle. Our vehicles provide it, and the new Genesis G70 showcases it at the highest level. Since its announcement and subsequent debut, the G70 is changing how the rest of the world views luxury vehicles, and you can do that when you stop in and see it here in person.
Get to Know the Genesis G70
A compact luxury sedan, the Genesis G70 provides smooth and dynamic driving that appeals to a wide range of people. Whether you're new to the executive class or are seeking something modern and refined from your previous luxury vehicle experiences, it has the attributes that you desire. Out of the entire Genesis lineup, the G70 is the smallest offering, sitting below the G80 and G90, but it packs plenty of big punch from its spacious cabin, to its ample power that bests many leading European brands, to safety and technology that allows those in Norwalk and Greenwich to drive with confidence.
What's New on the 2020 Genesis G70?
Much of what has made the Genesis G70 such a top option for those in Stamford and beyond is that it stands at the forefront of innovation and has the latest features onboard. The 2020 model brings us updates while keeping what has made the G70 so appealing for so long. This includes features like the G70 Sport now having more aggressive braking and available 19-inch wheels with all-season tires onboard so you can truly corner and enjoy the power of the G70, while being confident it will ride in all seasons, summer, winter, spring and fall. Additionally, the 2020 Genesis G70 3.3T Prestige package now has a power-operated trunklid to add more convenience, plus there's now new interior upholsteries including brown leather to give the cabin richer ambiance.
Worldwide Recognition
We're not just saying you'll feel confident driving in the Genesis G70, we can back it up. Which vehicle earned both 2019 North American Car of the Year and MotorTrend 2019 Car of the Year in its first year on the market? The Genesis G70. How about being named a 2019 Car and Driver 10Best Winner? AutoGuide.com 2019 Car of the Year? The Genesis G70 did that too.
Along with the awards for its overall prowess, the G70 was named a 2019 IIHS Top Safety Pick+ and helped the entire Genesis brand earn the top overall spot in the J.D. Power 2019 APEAL Study. It also was in the top spot in J.D. Power's 2019 U.S. Initial Quality Study for owner satisfaction. So, you don't have to take our word for it; you can rely on those who are driving it. You can plainly see that the G70 has made quite the impression on the automotive world, as it shatters barriers and breaks the mold to give you a new kind of luxury driving experience.
Power and Performance
The 2020 Genesis G70 is built on performance. Its frame accentuates it with aerodynamics and a low center of gravity to maximize the output in an efficient and thrilling manner. A standard 2.0-liter turbocharged 252-horsepower engine delivers quality power, while also being able to provide 22 miles per gallon in the city and 30 mpg on the highway with premium fuel. For added oomph, a 365-horsepower V6 is available, which allows the G70 to set itself apart from its rivals with that level of power.
Additional performance features include launch control for quick sprint times such as a zero-to-60 miles per hour time of 4.5 seconds, while an all-wheel drive system with dynamic torque vectoring control provides control and precision for various road conditions; a must in our area.nt.
Safety and Technology
For a comprehensive driving experience, the Genesis G70 covers the bases with safety and technology.
Onboard technology is plentiful, with convenience and connectivity standard. Loading your cargo in the trunk is simple with a hands-free smart trunk which automatically opens as you stand behind it with your smart key. You'll also have a standard eight-inch display with integrated functionality for applications like Android Auto™ and Apple CarPlay™ standard, along with available Qi wireless charging, and a 15-speaker Lexicon® sound system. Everything works in sync for seamless functionality from navigation to music streaming for a drive that keeps satisfaction levels high at all times.
With its innovative safety, the 2020 Genesis G70 provides you with the ability to see all around you thanks to Surround View Monitor with 360-degree views to maneuver through all different types of spaces from parallel parking to driving in reverse. You'll also find added protection with the likes of automatic emergency braking and blind spot detection with cross-traffic alert. There's also driver attention alert, lane keep assist and adaptive cruise control all available on the G70, which helped it garner high levels of safety honors from IIHS with a Top Safety Pick+ designation.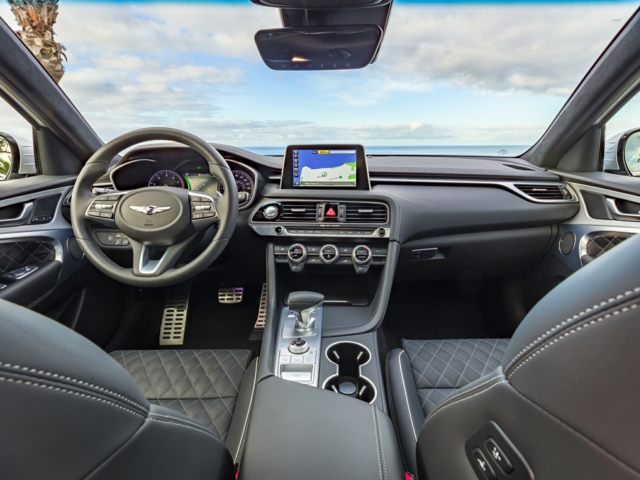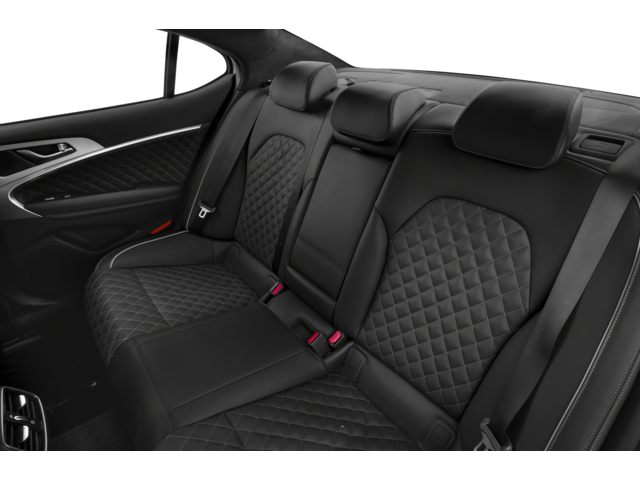 Explore the Interior of the 2020 Genesis G70
You should expect standout luxury and comfort inside the Genesis G70, and you get it in a variety of ways. You're going to notice that the cabin is adorned with sporty details and exquisite materials. This includes sport-inspired seats, or quilted-patterned Nappa leather seating which creates a diamond formation that provides unique style and comfort as you drive through Stamford and the surrounding area. Additionally, you'll find heated and ventilated front seats which allow you to warm up on cold winter mornings when starting the vehicle (which you can do remotely thanks to the Genesis Intelligent Assistance), or cool your seat down and help you stay relaxed on the leather seating especially during the summer months where it is warm. The driver's seat is also adjustable in 12 or 16 different ways depending on the option you choose with a power cushion and side bolsters to find the ultimate comfort as you drive and stay alert.
Inside you will also notice the standout technology. This of course include the eight-inch touch display with Apple CarPlay® and Android Auto™ integration, along with providing you with a rearview camera and a 360-degree Surround View Monitor so you can navigate your way in and out of different parking spaces or tight squeezes by being able to see all around the Genesis G70 and be alerted of any hazards. There's also wireless phone charging available, plus there's an available Lexicon® Premium Audio System available as well to provide standout sound for your music.
With an interior this exciting and appealing, we're confident that you'll feel shrouded in luxury and know that the inside of the 2020 Genesis G70 combined with all the other parts of the vehicle is going to give you a comprehensive drive throughout Stamford and beyond.
2020 Genesis G70 Models at a Glance
While you've been able to read about all the different features that are available to you on the 2020 G70, you can choose between all the different models available in our showroom at Genesis of Stamford. When you take a look at the details of each one to decide on the differences, you'll be making a more informed choice for yourself and finding the right fit for you.
2.0T Advanced: offers the standard inline-four 252-horsepower engine and has numerous features such as standard touch display options, pre-collision safety, adaptive cruise control, leather steering wheel, and much more for a pristine and prestigious ride.
2.0T Advanced AWD: this offers many of the same features as the aforementioned 2.0T Advanced, but adds a heated steering wheel standard, plus additional interior color options.
2.0T Sport: with rear-wheel drive and the Sport package available to give the 2020 G70 advanced performance feel, you'll find plenty of similarities to other options but also are able to add a 15-speaker sound system with two subwoofers, and surround sound along with 19-inch performance tires standard.
3.3T Advanced: using the 3.3-liter, 365-horsepower engine you'll find this option in both rear- and all-wheel drive. It also offers multiple upgraded packages to choose from and has you completely covered with in-vehicle entertainment and safety. It includes all features on the 2.0T Sport, plus additional amenities like blind spot and lane departure warning standard as well as options like dusk sensing headlamps that adjust as the natural light outside changes.
3.3T Design: if you're looking to increase the look and feel with specialized color and finishes, that's what you're going to find on this edition of the G70. It too has the features of the 3.3T Advanced, is available in rear-wheel drive and all-wheel drive, and adds more overall appeal.
3.3T Dynamic: taking what you'll find and giving you additional features such as front, side and rear view cameras for a surround view of what is around you when driving to add in even more safety and security, along with performance-based tires to give you the trill of a compact luxury sedan.
Come to Genesis of Stamford to Experience the 2020 G70
If you'd like to learn more and view the G70 up close, feel free to stop in and see us in our showroom serving Stamford along with Rye and Larchmont, NY as we'd be happy to highlight every detail of the exciting compact luxury sedan. We're here to answer your questions and help you decide on the ideal luxury ride that suits your needs, so contact us to arrange a time to meet soon.
Make an Inquiry