2021 Genesis GV80 Vs. 2021 Audi Q7
New Genesis GV80 SUV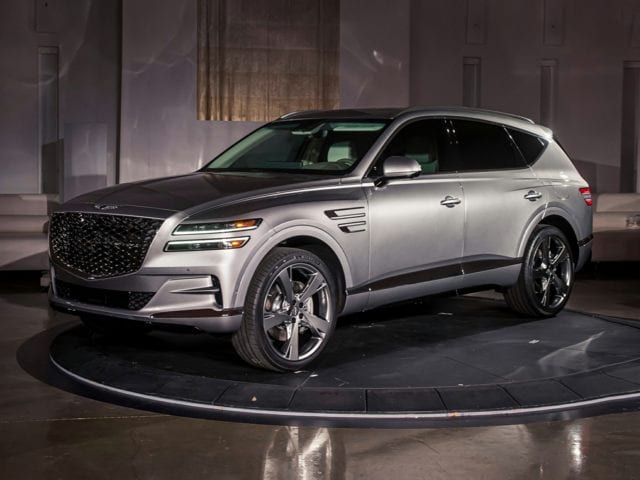 New Audi Q7 SUV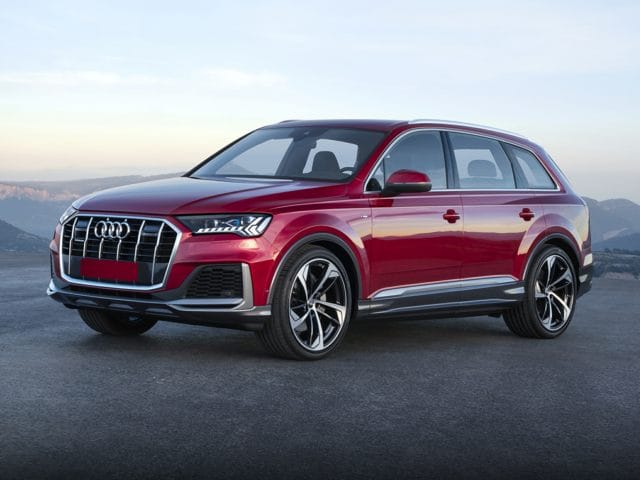 For those who are seeking out luxury SUV options, we have the solution at Genesis of Stamford. For those Greenwich, Norwalk and Westport, CT who are seeking out a new premium option, the 2021 Genesis GV80 is here. It stands out thanks to its appeal and attributes, but we know drivers want to make a well-informed choice. That's why we've taken the time to provide you with a comparison so you can see how it stacks up with others such as the 2021 Audi Q7.
2021 Genesis GV80 Price and Trims
The 2021 Genesis GV80 provides you with three different options which includes the Standard, Advanced and Prestige, each offering either a 2.5T or 3.5T engine option. It's available in rear- or all-wheel drive and the starting price is $48,900 for the GV80 2.5T RWD Standard and $60,175 for the range-topping 3.5T AWD Standard.
2021 Audi Q7 Price and Trims
The Audi Q7 offers three trims: the Premium, Premium Plus and Prestige. They offer all-wheel drive options as well and the base Premium trim starts at $54,950 while the Audi Q7 Prestige starts at $72,000.
Genesis GV80 Interior Design and Cargo Space
When you climb aboard the new Genesis GV80, you're going to find plenty of innovative features onboard, which includes different upholsteries like quilted leather, standard heated front seats, ambient lighting, and a 14.5-inch touch display with Android Auto™ and Apple CarPlay® along with multiple USB charging ports and a 3D effects gauge cluster.
Audi Q7 Interior Design and Cargo Space
The Audi Q7 does offer many different seating options with leather available, along with heated front seats and entertainment choices, which do give drivers a sense of connectivity and comfort.
Genesis GV80 Front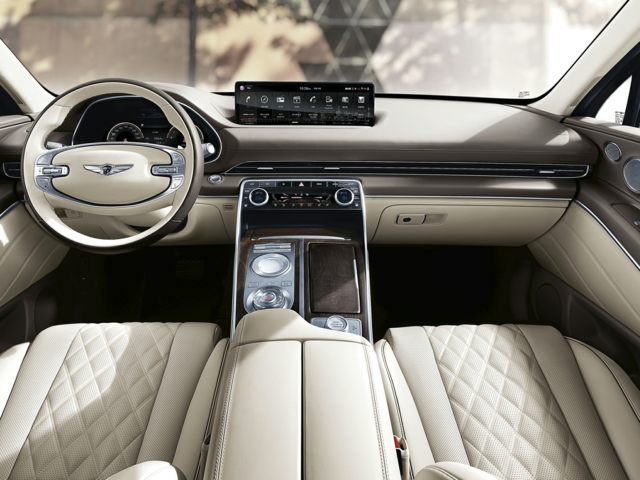 Genesis GV80 Back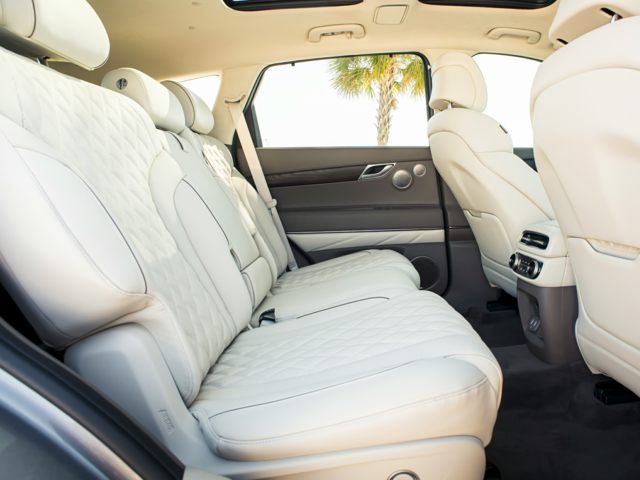 2021 Genesis GV80 Exterior Colors and Dimensions
The 2021 Genesis GV80 measures at 194.7" L x 77.8" W x 67.5" H, with the choice of 19-inch or 22-inch tires. There's also a number of different colors which includes Lima Red, Alta White, Adriatic Blue, Himalayan Gray, Gold Coast Silver, Savile Silver, Bik Black, and Uyuni White.
2021 Audi Q7 Exterior Colors and Dimensions
The 2021 Audi Q7 measures at 199" L x 78" W x 69" H and provides you with the following colors Barrel Brown Metallic, Carrara White, Florett Silver Metallic, Galaxy Blue Metallic, Glacier White Metallic, Navarra Blue Metallic, Night Black, Orca Black Metallic, Samurai Gray Metallic and Vicuna Beige Metallic.
GV80 Engines and Powertrain
The 2021 Genesis GV80 has rear- and all-wheel drive options, and provides a 2.5-liter turbocharged four-cylinder with 300 horsepower or a 3.5-liter twin-turbocharged V6 and 375 horsepower.
Audi Q7 Engines and Powertrain
The Audi Q7 offers you an I-4 turbo with 248 horsepower along with an I-6 engine with 335 horsepower and offers all-wheel drive options available to you.
Genesis GV80 Safety and Reliability
Onboard the SUV you're going to find many different features which includes automatic emergency braking, adaptive cruise control, lane-keeping assist, lane departure warning, pedestrian detection, along with an available semi-autonomous driving mode.
Audi Q7 Safety and Reliability
With the Audi Q7 you're going to find the likes of cross-traffic alert, Audi pre-sense, side vehicle exit to keep you covered and secure on the road.
Which is the Better SUV: GV80 or Audi Q7?
While both provide you with standout luxury, it's clear that the Genesis GV80 is the right choice. Not only will you get the same level of premium amenities and technology at a lower starting price, but also more standard power, and better warranty coverage it's the Genesis GV80. We'd be happy to get started and show you why the GV80 is a high quality luxury SUV as we can arrange a test drive at your convenience.
How Can We Help?
* Indicates a required field